1
CREATE YOUR BUSINESS ACCOUNT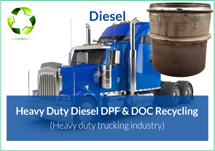 To recycle your heavy duty DPF and DOC units with our company, create your account by using the tab below. Once your account has been created you will have access to the following:
Access to our online quote system where you can upload pictures for price quotes.
FREE UPS shipping labels and FREE LTL Freight options to ship your used DPF's and DOC's to our facility.
Access to our heavy duty diesel SCRAP DFP & DOC Pricing Catalog.
Please Note: Access to our heavy duty SCRAP DPF & DOC Pricing Catalog is reserved for companies within the diesel industry who recycle DPF and DOC units with us on a regular basis.)
CREATE ACCOUNT
2
SHIPPING YOUR UNITS

We offer (A,B & C) FREE SHIPPING options for your convenience
---
A

PRINT UPS LABEL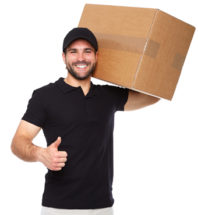 If you have cardboard boxes to ship your units in, we will provide you with Free UPS shipping labels. Print these labels out, affix them to the package containing your class 8 DPF or DOC and give them to a UPS driver or drop them off at a UPS location. Who knew DOC or DPF system recycling could be this easy?
Print out UPS labels directly from your account.
Tracking is provided for each package shipped.
Print out as many FREE UPS labels as you need

---
B
CONVENIENT CONTAINER SERVICE
GET CONTAINER SERVICE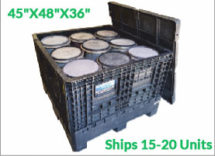 If your company has on-going need for DOC & DPF system recycling, we can provide you with our shipping crates. When these crates are filled, customers notify us and we pick up the full crate and deliver an empty crate for ongoing collections.
Our container service is provided at no additional cost.
Companies can swap containers as often as necessary.
All shipping costs are covered by SCRAP Inc.

---
C
SHIP ON STANDARD PALLETS
CONTACT US FOR PICKUP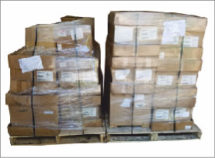 If your company has DPF & DOC units secured on pallets, contact us and we will arrange a freight pickup at your location. We can usually have a truck to your location within 24 hours and can pick up one pallet or an entire truck load.

3
RECEIVE PAYMENT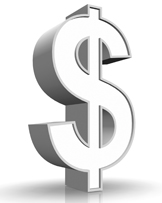 Pricing for these units is based on our online catalog.
Detailed payment receipts are emailed to our customers at the time the payment is sent.
We send payments to our customers via check or PayPal. Customers decide how they would like to be paid when completing their account setup here on our website.
PRINT UPS LABEL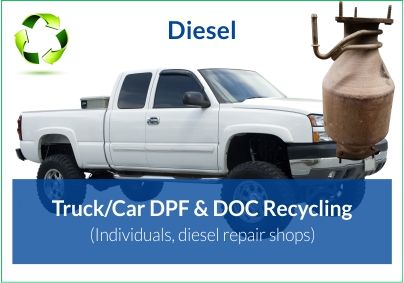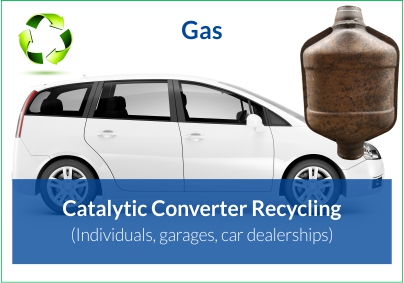 FAQ for
Heavy Duty Diesel DPF & DOC Recycling
How much are scrap DPF & DOC units worth from heavy duty diesel applications?
The price that we pay for scrap DPF and DOC filters from heavy duty diesel applications range up to $500.00 or more depending on the application. A vast majority of DPF and DOC filters that we purchase are in the $100.00 - $300.00 range, however some are worth significantly more for recycling value.
Do DPF's and DOC's have to be in re-buildable condition for us to purchase them?
No. We purchase units in any condition. This includes units that are cracked, broken, melted or even if they are missing some of the internal contents. We recycle the metals contained within the diesel particulate filter and diesel oxidation catalyst ceramic material itself, so the units do not have to be in any particular condition to be eligible for our buy-back program.
Who pays for the shipping costs when DPF & DOC cores are sent to SCRAP Inc. to be recycled?
SCRAP Inc. covers 100% of all shipping costs for shipments within the US. We offer three different convenient shipping options for recycling heavy duty diesel DPF and DOC systems. All of our shipping options are at no cost to the sending company. Some bulk shipments of DPF and DOC units from Canada also qualify for Free Freight Shipping depending on the quantity and location.
Do we purchase SCR (Selective Catalyst Reduction) units for recycling?)
At this time we are not purchasing the SCR units from most applications. SCR units, although they do contain trace elements of the metals that we recycle, are not typically cost effective to ship and process due to their size and weight. We may consider purchasing certain volumes on a case by case basis, if the volumes that your company accumulates meet certain criteria.
What makes of DPF and DOC systems do we purchase?
We purchase and recycle units from all makes and models. Caterpillar, Cummins, Detroit, Freightliner, Hino, Isuzu, Mack, Mercedes, Mitsubishi, Navistar, Peterbilt, UD and Volvo. This is not a conclusive list as we purchase units from many other makes and applications. We also purchase many types of aftermarket replacement DPF's and DOC's for recycling as well.
What determines the value of scrap DPF and DOC units?
We have determined the values of each kind of scrap DPF and DOC unit by utilizing an XRF technology to determine the averages of recyclable metals in each type of unit. We have built an extensive online database for establishing the values of scrap units and continue to test and evaluate new kinds of DPF's and DOC's on a weekly basis.